Vacation Pictures; Vegas, June Lake, Tahoe, ForestHill, Burney, Capitola, Monterey, Big Sur, Morro Bay
9/27/2003 - 10/8/2003
Day 1 (Saturday) -- Lake Mead and Las Vegas -- We paddled Lake Mead, then had dinner at Quark's Bar and Restaurant, then took in the Star Trek Experience. We asked for a refrigerator in our room, and we ended up with a double-room suite for the same price as a regular room. This is a picture of Vegas from the 26th floor of our Hotel. The flying saucer effect is from the lights in the elevator reflecting on the glass.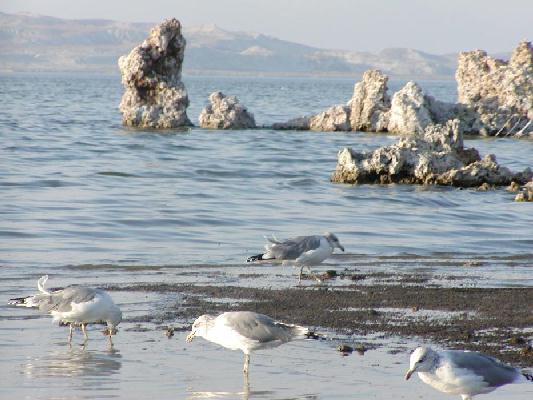 Day 2 (Sunday) -- Mono Lake -- We hiked the trail to Mono Lake, then stayed overnight in June Lake (the room has a lake view). Mono Lake is over 2 times saltier than the ocean, and alkaline. The only things that live in the lake are brine shrimp and sand flies, which the seagulls eat.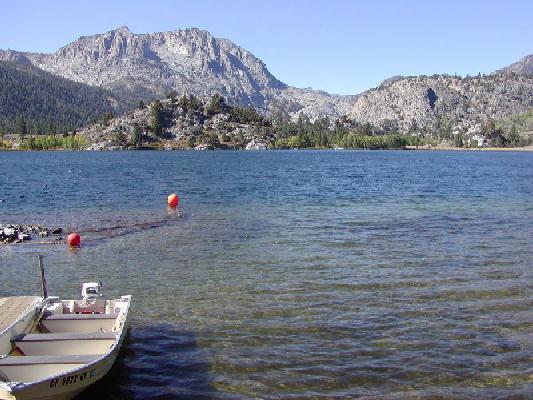 Day 3 (Monday) -- Gull Lake -- We paddled Mono Lake in the morning; then cruised Gull Lake, Silver Lake and Grant Lake; then headed for Lake Tahoe.
Day 4 (Tuesday) -- Lake Tahoe -- We hiked to Vikingsholm on Emerald Bay, then we paddled from a beach a couple of miles down the road.
Days 5 and 6 (Wednesday and Thursday) -- ForestHill -- I played basketball with JJ (sinking 8 consecutive free throws; 2 short of JJ's record on my home court). We paddled Sugar Pine Lake with Terry on Thursday.
Day 7 (Friday) -- Burney -- We arrived at camp Thursday night at around 10pm. Betty helped us put up the tent in the dark. On Friday, we paddled Butte Lake amongst the lava beds.
Day 8 (Saturday) -- Burney -- We hiked to Burney Falls on Friday (pictured are Betty, Judi, Terry, and Kim); and paddled Burney Lake (twice).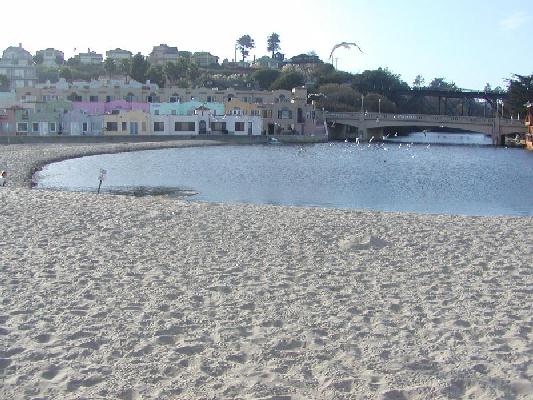 Day 9 (Sunday) -- Capitola -- We drove to Capitola to get the local magazine to get the Begonia Festival results: Nautical Parade; President's Choice: "57 Chevy"; Sand Sculpture: Ages 9 - 14: "Sponge Bob"; Fishing Derby: Biggest Fish: 1.55 #; Noa Pagan, Age 4.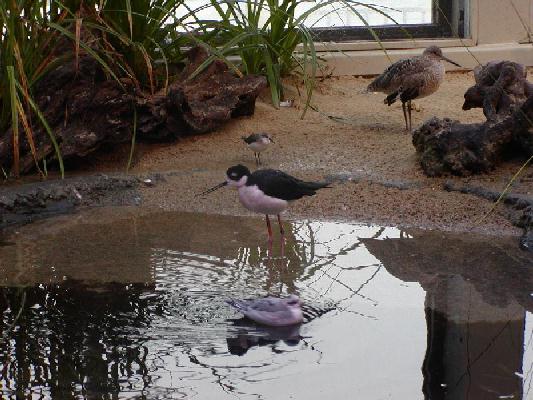 Day 10 (Monday) -- Monterey Aquarium -- Lots of cool jelly fish exhibits. My favorite is the aviary. Here is a phalarope, a black necked stilt, a peep, and an unknown bird that looks a little like a willet (name that bird!).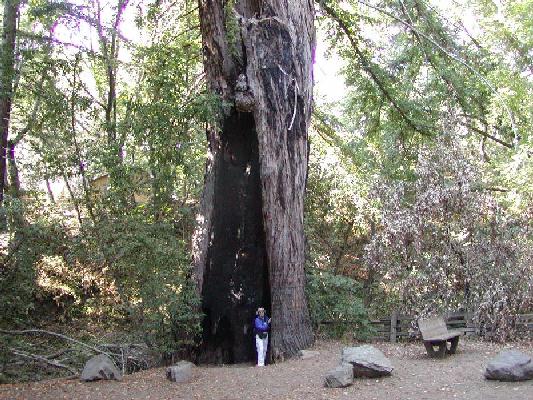 Day 10 -- Big Sur -- Big trees! We hiked the trail to the falls.
Day 11 (Tuesday) -- Morro Bay -- We paddled with pelicans and sea otters. There were lots of birds in the Morro Bay mud flats, but one has to watch the tides to avoid getting beached. Morro Bay had the best restaurants on the trip. Spent the night in Azusa; too late to make it to Redlands.
Day 12 -- back to Glendale, Arizona.
Last updated 10/11/2003.